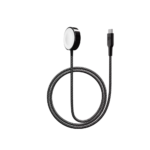 Braided Type-C Watch Charger 5W 1.2M
August 19, 2023
Porodo 8K HDMI to HDMI Cable V2.1 3m/10ft – Black
August 19, 2023
Baseus F01B Tri-Mode Wireless Silent Mouse
UGX 70,000
Share
The mouse is designed with an ergonomic shape that fits comfortably in your hand. The ABS material used in its construction ensures that it is durable and long-lasting. The mouse is lightweight and easy to use, making it perfect for long hours of work or gaming.
The Baseus Creator Tri-Mode Wireless Mouse has three sensitivity settings of 800/1200/1600DPI. This allows you to adjust the sensitivity of the mouse to suit your needs. Whether you are working on a document or playing a game, you can easily switch between sensitivity settings to achieve the desired level of precision.
The mouse has a response frequency of 250Hz, which means that it responds quickly to your movements. This ensures that you can move the cursor smoothly and accurately, without any delays or lag. The fast respponse time also makes the mouse ideal for gaming, where precision and speed are cruciial.
The Baseus Creator Tri-Mode Wireless Mouse is compatible with a wide range of operating systems, including Windows, HarmonyOS, Apple OS, Linux, and Vista. This means that you can use the mouse with almost any device, making it a versatile and convenient accessory. Whether you are using a desktop computer, laptop, or tablet, the mouse will work seamlessly with your device.
Only logged in customers who have purchased this product may leave a review.