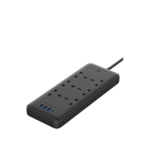 Powerology Multi-Port Smart Power Strip
July 14, 2023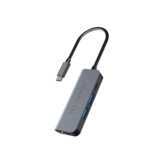 Powerology 4 in 1 USB-C Hub with HDMI & USB 3.0
July 14, 2023
Powerology Multi-Port Jump Starter Power Bank
UGX 550,000
Share
Getting into your car and finding out the battery's dead can really make a sad day for you. If you believe jumper cables are the only solution to that problem, think again. Powerology portable car jump starter will get your car going without needing another vehicle for a jump. 6L diesel and 7L petrol engines are both compatible with this car jumper. Wide compatibility with wide functionality will let you use Powerology portable car jump starters in the most beneficial way.
This product comes up with some amazing features, which are:
Light Up Your Night
LED flashlights are the most intelligent feature ever. No matter day or night, revive your dead battery with Powerology portable car jump starter. Brings light to darkness with the 3W, 200 lumens embedded flashlight. A useful option in the jump starter to make it functional even at night. It can be beneficial camping while you need light to chill out.
Different ports
nowadays portable car jump starters have become really popular, however, this one also can be used as power banks for your devices. Two USB output ports give you the option to charge your phone or tablet fully charged on the go. One 12V output acts as a car cigarette lighter for your devices to be charged. One input for charging, whether with a home or car adapter. The last port is specialized for jump starter sockets to be fully charged.
Installation Process
 ​Connect the blue plug fully seated into the host, and make sure the Cable Indicator is off.
​​Connect Red Clamp to the positive (+) battery terminal, and the Black Clamp to the negative (-) battery terminal.
Operate following the instruction of the Cable Indicator:

​​Green Light on : Telling the connection is correct and the circuit is working, you can turn on the engine to jumpstart directly.
​​Red Light on with Buzzing: Telling the connection is wrong and buzzing to the alarm to correct the clamps as step 2 mentioned above, wait until the green light is on to turn on the engine.
​​Green Light Blinking with Buzzing: Saying the vehicle battery is low, press the "Boost "button, wait for the green light to become solid, then turn on the engine within 30 seconds.
​​No light on with no buzzing: Saying the vehicle's battery may be damaged, after confirming the connection of the clamps is correct, press the: "BOOST" button, wait for the green light to be on, and then turn on the engine within the 30s.​

​​​Start the Vehicle
When the vehicle is started, remove the jumper cable from the vehicle battery. Leave the vehicle's engine running.
Only logged in customers who have purchased this product may leave a review.